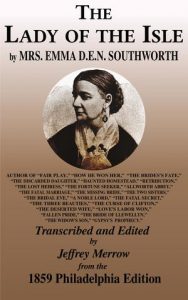 The Lady of the Isle – A Romance from Real Life. By Mrs. Emma D. E. N. Southworth.
Lady Estelle Morelle finally agrees to marry the persistent Viscount Montressor, but the marriage is blighted at the outset. Lord Montressor pursues legal recourse and travels the globe to vindicate his new bride in the eyes of the world.
Written by Emma Dorothy Eliza Nevitte Southworth (1819–1899) and copyright in 1859 by T. B. Peterson & Brothers.  Transcribed and edited by Jeffrey Merrow from the 1859 Philadelphia edition. 47 chapters. 576 pages. 168,000 words.
Lady of the Isle for Kindle at Amazon
Lady of the Isle epub for Nook at Barnes and Noble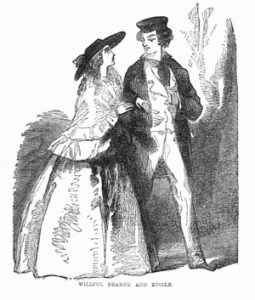 CONTENTS.
Chapter I. – An Interrupted Wedding.
Chapter II. – The Arrested Bride.
Chapter III. – The World.
Chapter IV. – Estelle.
Chapter V. – The Assizes.
Chapter VI. – The Arraignment.
Chapter VII. – The Flight of Estelle.
Chapter VIII. – The Forsaken.
Chapter IX. – Shipwreck.
Chapter X. – Recognition of the Dead Body.
Chapter XI. – His Majesty the King of the Isle.
Chapter XII. – The Skipper's Daughter.
Chapter XIII. – The Island Princess.
Chapter XIV. – Barbara Brande.
Chapter XV. – The Girl-Captain.
Chapter XVI. – Pursuit.
Chapter XVII. – Captain Barbara's First Voyage.
Chapter XVIII. – The Recluse.
Chapter XIX. – The Grave-Yard Ghost.
Chapter XX. – Lord Montressor's Arrival.
Chapter XXI. – The Last Struggle.
Chapter XXII. – Julius Luxmore.
Chapter XXIII. – Etoile L'Orient.
Chapter XXIV. – Barbara's Voyage.
Chapter XXV. – Glorious Uncertainty of the Law.
Chapter XXVI. – Christmas in the Village.
Chapter XXVII. – Christmas in the Desolate House.
Chapter XXVIII. – The Evening Feast.
Chapter XXIX. – Captain Barbara may be a Baroness.
Chapter XXX. – Captain Barbara's Second Voyage.
Chapter XXXI. – The Dreary Headland.
Chapter XXXII. – The Flight from the Headland.
Chapter XXXIII. – The Passage of Years.
Chapter XXXIV. – The Heiress of the Isle.
Chapter XXXV. – Euthanasy.
Chapter XXXVI. – Etoile comes into her Estate.
Chapter XXXVII. – Etoile Left Alone.
Chapter XXXVIII. – The Solitary Maiden.
Chapter XXXIX. – Estelle's Home.
Chapter XL. – Meeting with an Old Friend.
Chapter XLI. – A Waiting Bride.
Chapter XLII. – What the Sea gave to Etoile.
Chapter XLIII. – Love.
Chapter XLIV. – The Attempted Flight of Etoile.
Chapter XLV. – The Rivals.
Chapter XLVI. – Plots and Counter Plots.
Chapter XLVII. – The Re-union.
Released again as The Lady of the Isle, or, The Island Princess, copyright 1886 by T. B. Peterson & Brothers using the same plates throughout.