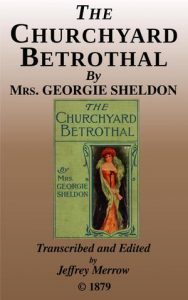 The dying wish of Lord Herbert Montague to Ralph Rutherford is a plan for uniting their vast estates through the arranged marriage of their young heirs.
Written by "Mrs. Georgie Sheldon" (Sarah Elizabeth Forbush Downs 1843–1926), and copyright 1879, 1891, 1892 by Street and Smith.
Transcribed and edited by Jeffrey Merrow. 39 chapters; 312 pages; 107,500 words.
Churchyard Betrothal for Kindle at Amazon
Churchyard Betrothal epub for Nook at Barnes and Noble
Churchyard Betrothal epub at Kobo
CONTENTS:
Chapter I. – The Promise
Chapter II. – "Oh, God! Not That!"
Chapter III. – Grasping at a Straw
Chapter IV. – "I Will be Ready"
Chapter V. – "You Have Decided?"
Chapter VI. – "Who Giveth This Woman Away?"
Chapter VII. – The Flight
Chapter VIII. – "I Forced Her To It"
Chapter IX. – "He Shall Succumb! I Swear It!"
Chapter X. – Miss Gilbert's History
Chapter XI. – The Compact
Chapter XII. – "You Must be a Daughter to Me"
Chapter XIII. – "She is Not Your Wife"
Chapter XIV. – "Oh, I Cannot Bear It!"
Chapter XV. – "She is a Gentlewoman!"
Chapter XVI. – Alice Finds a Friend
Chapter XVII. – Adopted
Chapter XVIII. – Love at First Sight
Chapter XIX. – The Past Recalled
Chapter XX. – In the Studio
Chapter XXI. – Reginald's Discovery
Chapter XXII. – An Avowal of Love
Chapter XXIII. – What Should She Do?
Chapter XXIV. – An Unexpected Meeting
Chapter XXV. – "Am I Right or Wrong?"
Chapter XXVI. – The Work of an Evil Heart
Chapter XXVII. – The Important Document
Chapter XXVIII. – Worst Fears Confirmed
Chapter XXIX. – Was it Over?
Chapter XXX. – "Because I Hate You!"
Chapter XXXI. – Another Disappointment
Chapter XXXII. – "Would you Dare do it?"
Chapter XXXIII. – A Diabolical Scheme
Chapter XXXIV. – Reunited
Chapter XXXV. – Explanations
Chapter XXXVI. – The Masquerade
Chapter XXXVII. – The Betrothal Ring
Chapter XXXVIII. – "Mine At Last, My Darling!"
Chapter XXXIX. – Coals of Fire